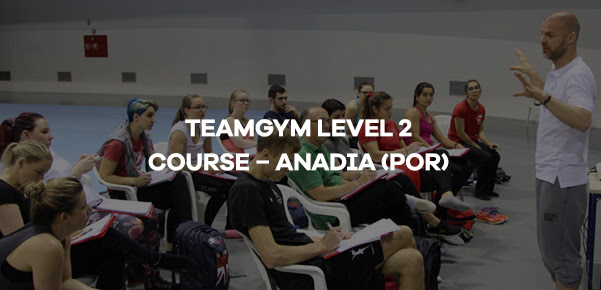 30 coaches representing Austria, Estonia, Great Britain, Iceland, Italy and Portugal attended the TeamGym level 2 course held in Anadia (POR) from 7 to 9 April. The course was led by two top coaches: Gunnar Jansson, national coach for the Swedish senior men's team, and Anders Frisk, brevet judge and educator on floor for both the Swedish Federation and the UEG.
This was the first coaching course following the update of the course syllabus. Thanks to all participants for the great comments and feedback.
Watch out for the level 3 course (highest level) planned for in late January 2018! The venue will this time be a new gym in southern Sweden.
30 entraîneurs venant de l'Autriche, l'Estonie, la Grande-Bretagne, l'Islande, l'Italie et le Portugal ont participé au cours TeamGym niveau 2 organisé à Anadia (POR) du 7 au 9 avril. Le cours était dirigé par deux des meilleurs entraîneurs : Gunnar Jansson, entraîneur national de l'équipe masculine senior de la Suède, et Anders Frisk, juge breveté et éducateur au sol pour la fédération suédoise et l'UEG.
Ceci était le premier cours pour entraîneurs suite à la mise à jour du programme de cours. Merci à tous les participants pour les fabuleux commentaires et retours.
Préparez-vous pour le cours de niveau 3 (niveau le plus haut) planifié pour fin janvier 2018 ! Cette fois, le lieu sera une nouvelle salle de gym dans le sud de la Suède.
From 15 to 22 July, we are running our annual summer training camp staffed by some of the most experienced high level coaches in TeamGym. A level 1 coaching course will be held in parallel. The course covers a full week of lessons and consists of both theoretical and practical sessions in all three disciplines. The camp and the coaching course will gather almost 30 coaches, 60 gymnasts and 7 experts!
Du 15 au 22 juillet, nous avons notre stage d'entraînement annuel d'été avec certains des entraîneurs les plus expérimentés en TeamGym. Un cours pour entraineur de niveau 1 sera organisé en parallèle. Le cours couvre une semaine entière de leçons avec des sessions théoriques et pratiques dans les trois disciplines. Le stage et le cours pour entraîneurs regrouperont presque 30 entraîneurs, 60 gymnastes et 7 experts !
The Technical Committee is now busy finalising the new version of the TeamGym Code of Points (CoP). Before being released to all National Federations the CoP will be up for approval by the UEG Executive Committee in early September. So we plan to publish it as soon as possible afterwards.
The success formula developed over the years providing the TeamGym spirit and atmosphere will of course be maintained, but you will see that the new version of the code has been substantially changed in an attempt to:
● Increase clarification of requirements and element specifications
● Improve the balance in difficulty between Floor, Tumble and Trampet
● Speed up judging
● Improve safety
● Better align the format with the FIG codes
Maintenant, le Comité Technique est occupé à finaliser la nouvelle version du Code de Pointage (CdP) pour TeamGym. Avant d'être publié pour toutes les Fédérations Nationales le CdP devra être approuvé par le Comité Exécutif de l'UEG en septembre. Donc nous planifions de le publier au plus vite après cette réunion.
La formule réussie développée au fil des ans donnant à TeamGym cet esprit et l'atmosphère, sera naturellement maintenue, mais vous verrez que la nouvelle version du Code a été considérablement changée dans le but de :
- Augmenter la clarification des exigences et les spécifications d'éléments
- Améliorer l'équilibre de difficulté entre le Sol, Tumbling et Trampet
- Accélérer le jugement
- Améliorer la sécurité
- Meilleure harmonisation des formats avec les codes de la FIG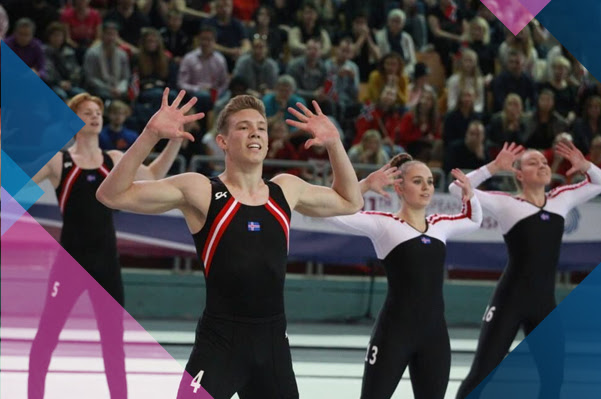 Already now, we would like to present some of the key changes that are planned for the new version:
Déjà maintenant, nous aimerions présenter certains des changements clés qui sont planifiés pour la nouvelle version :
Floor
The Floor composition panel will be combined with the Difficulty panel forming a CD-panel. Some of the current composition panel duties will be allocated to the E-panel.
The Floor composition score will include 4 additional composition elements/requirements
● Flexibility Element (the team can choose from performing split, side split or straddled pike-fold)
● Group Element (will include a lift or a throw off the floor - working as a team or in groups of minimum 3 gymnasts)
● Rhythmic Sequence (same as in the current CoP)
● Difficulty Distribution (at least 4 difficulty elements must be performed after 1:45 min from start)
For Floor Difficulty only elements marked on the tariff form will be evaluated and counted towards the difficulty value. The maximum number of difficulty elements allowed on the tariff form and elements counted towards the difficulty value are
● 4 Balances (handstand, dynamic balance*, standing balance plus any balance from the difficulty table)
● 3 Jumps/Hops/Leaps
● 2 Acrobatic elements
● 1 Combination of a Leap and another Jump, Hop or Leap
* A dynamic balance is either a pirouette or a power element.
For the team to get the full difficulty value, all gymnasts need to perform the difficulty element correctly. If one or two gymnasts fail to perform the element, the team will be awarded 50% of the element's difficulty value. If three or more gymnasts fail in performing, the value of the element will be 0. The floor difficulty tables are adjusted to encourage teams to also perform standing balances and leaps.
Sol
Le panel de la composition au sol va être combiné avec le panel de la difficulté. Quelques responsabilités du panel de la composition vont être allouées au panel d'exécution.
La note de la composition au sol inclura 4 éléments de composition/exigences de plus
- Élément de flexibilité (l'équipe peut choisir entre présenter performing split, side split or straddle pike)
- Élément de groupe (inclura un porté ou un lancer au-dessus du sol – travaillant en équipe ou en groupes de minimum 3 gymnastes)
- Séquence rythmique (la même chose que dans le CdP actuel)
- Distribution de la difficulté (au moins 4 éléments de difficulté doivent être présentés après 1 min 45 du début)
Pour la difficulté au sol, seulement les éléments inscrits sur le formulaire de difficulté seront évalués et comptés pour la valeur de difficulté. Le nombre maximum des éléments de difficulté autorisés sur le formulaire de difficulté et des éléments comptés pour la valeur de la difficulté sont :
- 4 éléments d'équilibre (poirier, équilibre dynamique, élément d'équilibre plus tout autre élément d'équilibre du tableau de difficulté)
- 3 sauts
- 2 éléments acrobatiques
- 1 combinaison de deux sauts
Afin que l'équipe obtienne la valeur de difficulté complète, tous les gymnastes doivent exécuter l'élément de difficulté correctement. Si un ou deux gymnastes échouent l'élément, l'équipe recevra 50% de la valeur de l'élément de difficulté. Si trois gymnastes ou plus échouent, la valeur de l'élément sera de 0.
Tumbling and Trampet